Thomas Kinkade All Hearts Come Home Sculpture
A Bradford Exchange exclusive inspired by the artistry of Thomas Kinkade, it tells a sweet story as the cheerful crystal snowman gently returns an adventurous little friend to his anxious parents' nest, and joyous melodies of the holidays fill the air!This impressive collectible Masterpiece Edition is individually handcrafted.
The cardinal family is fully sculpted and hand-painted in hues of bright red, surrounded by the icy smoothness of their silvery-plated and snow-tipped tree. The snowman sparkles in multifaceted genuine crystal, and sports a jaunty top hat, faux fur-tipped jacket, silvery scarf with matching mittens, and more silvery plating on his jacket. But this snowman has more than a warm heart inside; there's a Thomas Kinkade-inspired holiday village tucked inside his roly-poly tummy, complete with happy holiday revelers. At the push of a button the village glows with light as a medley of 8 classic Christmas carols begins to play.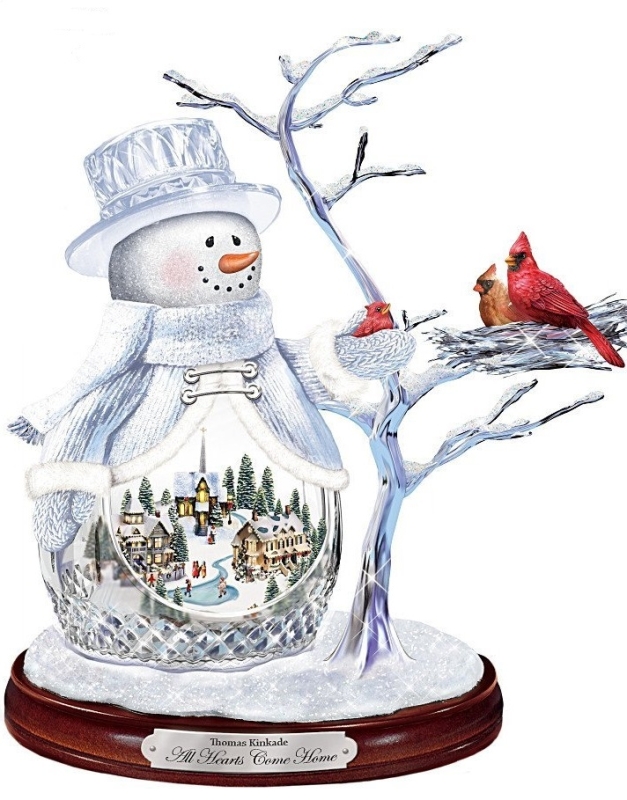 Link